I'm completely exhausted after having spent over 12 hours at Lotte World! I had an absolutely fantastical time.
Lotte World Adventure
is one of the world's largest indoor amusement parks (it also has an outside park, too). I didn't take too many pictures from my camera so I'll have to wait until tomorrow or Sunday to show you what we did (once I get pictures from other people's cameras). We were so lucky to visit the park today because Lotte World is celebrating their 20th anniversary... and so on the 20th of every month this year, the "special pass" which includes free usage of all facilities + admission (excluding games) is only 20,000won instead of the regular 35,000 won (as opposed to a "general pass" which only includes admission and shows in one part of the park is 24,000won).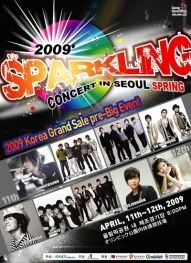 When I arrived back at the dorm pretty much ready to hit the sack, I found out that Tiffany had bought me tickets (just released today) to attend a Korean concert festival in Seoul called

Sparkling

at the Seoul Olympic Stadium on April 11th and 12th! I couldn't believe it because not only did she score spots close to the stage and not only are tickets only 55,000won per day, but the concert is also featuring many of my favourite Korean artists like Big Bang, DBSK, Shinee, Minwoo, and ShinHyeSung!! It seems like a big production as there will be 4000 seats standing and 4000 seats sitting.

What a nice way to end a perfect day, eh?